Dental Exams
Comprehensive exam – Examining your teeth in detail to identify any cavities, fractured teeth, or defective fillings and other restorations.
Periodontal exam – Examining your gums for any signs of disease, bone loss, or gum recession.
Limited exam – Usually limited to a single concern, such as a painful tooth. We make every effort to see emergency patients within 24 hours.
Full Mouth X-rays – Essential to identifying tooth and surrounding bone health.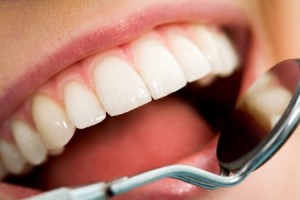 Hygiene
Cleaning – We perform regular cleanings and polishing which along with excellent home-care, decreases your chances of developing dental problems in the future.
Deep cleaning / Scaling & Root planing – This type of cleaning is performed on patients with areas of gum disease –periodontitis.
Sealants – These are used to "seal" the deep grooves and act as a barrier for plaque to accumulate in these areas of the teeth. This results in teeth that are more protected from developing cavities in the future.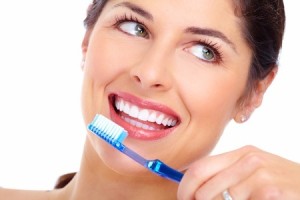 Fillings
We use esthetic "tooth colored" filling materials called Composite Resins, that provide our patients with the highest level of strength and durability, while matching the color and contours of the surrounding teeth for a highly cosmetic result. These materials are so advanced that we often use them to replace any defective Amalgam/Mercury fillings with the added benefit of being much more attractive than these metal fillings which often turn black with time.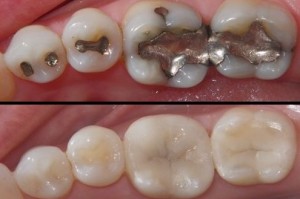 Crowns
Also known as "Full Coverage Restorations" or "Caps" are used when a tooth is at high risk for fracture or has been traumatized in some way. At Westwood Park Dental, we use All Ceramic Porcelain crowns that are very strong and match the surrounding teeth much more closely than crowns that use metals in their substructure. Each crown is meticulously designed and the result is long lasting and much more cosmetic than the older style crowns of the past.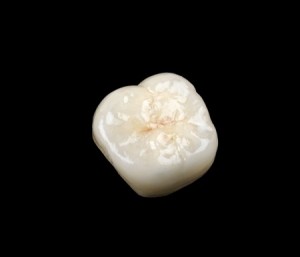 Bridges
Missing a tooth? A bridge may be a good option for you! What a bridge essentially does is replace the missing space between two existing teeth by preparing each of them for a crown. We design the bridge to include a replacement tooth that attaches to both sides of the two crowns. Whenever possible, we design our bridges using the same All Ceramic materials used for single crowns for an attractive, cosmetic result that blends in with the surrounding teeth.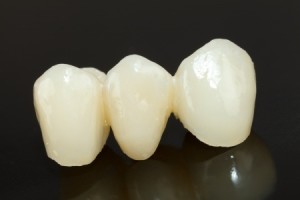 Dental Implants
Dental Implants are becoming very popular as an alternative for replacing missing teeth. Implants consist of a titanium post that is surgically placed in the site of the missing tooth. After a period of healing, an artificial tooth is designed and attached to the implant which now acts as the roots of the missing tooth. The benefit of implants is that they are a free standing restoration which does not require preparation of the surrounding teeth. You will need a consultation appointment as there are many factors involved in being considered a good candidate for long term success.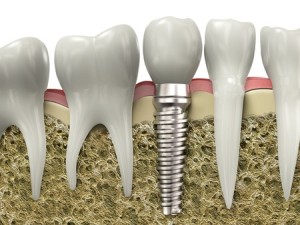 Dentures
Another option for replacing missing teeth is creating a custom Complete or Partial Denture. If you are self-conscious about having missing teeth or are having trouble chewing or speaking, a denture may be a good option for you. Dentures are removable, cleansable, and made from high strength acrylic resin that looks like natural teeth and gums. New, flexible materials are available such as Valplast, which allow us to design Dentures that are free of any metal clasps and are much more esthetic and comfortable.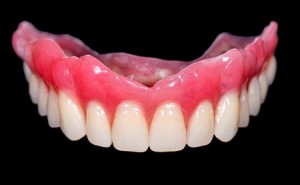 Root Canal Therapy
Oftentimes when a tooth is traumatized, becomes infected, or if a cavity becomes too large that it starts to approach the central nerve chamber of the tooth, the tooth will require Root Canal Therapy. Symptoms such as pain and swelling are common. Drainage of the infection, which may or may not be painful, is another indication that the tooth may need this type of treatment. During Root Canal Therapy, the source of the trauma or infection is removed, the root canals of the tooth are cleaned and sterilized, and a special filling material is placed within the roots to seal them. We begin treatment after numbing the tooth completely so that there is very minimal to no sensitivity felt during the procedure. If you are currently experiencing any pain or sensitivity, it is very important that you make an appointment for evaluation.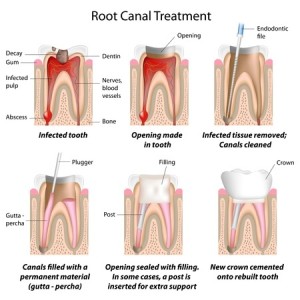 Tooth Extraction
When a tooth cannot be restored or has a very poor prognosis for long term success, it is often recommended for extraction. The extraction of the problem tooth will ensure that the surrounding teeth are not negatively affected by any potential infection or bone loss from the un-restorable tooth. As with all our procedures, we will try to make the procedure as comfortable as possible, and discuss options for replacing the tooth after its removal.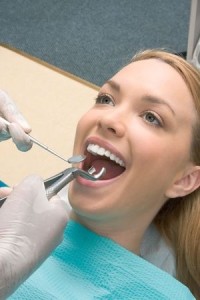 TMJ Therapy
Modern dentistry has identified that TMJ (Temporomandibular Joint) dysfunction is actually very prevalent with approximately 10 million Americans suffering from some form of TMD (Temporomandibular Disorder). The causes seem to be related to stress, nighttime tooth grinding or clenching, or possible arthritis, although much of the causes are still unknown. Symptoms of TMD are worn down teeth, clicking or popping TMJ, and jaw, neck, or facial muscle pain. If you suspect TMJ symptoms, make an appointment and we will discuss possible treatment options.