Invisalign Invisible Braces
Clear braces has become a very popular solution for tooth alignment and bite correction in recent years. Companies such as Invisalign and ClearCorrect offer a solution for patients who have crowding, misalignment, or spacing issues but do not want to use traditional braces with metal brackets and wires. Many adult patients are now utilizing this technology which has the advantage of being virtually invisible, removable, and much more comfortable and cosmetic than traditional orthodontics. If you are interested or need more information, please make an appointment for consultation.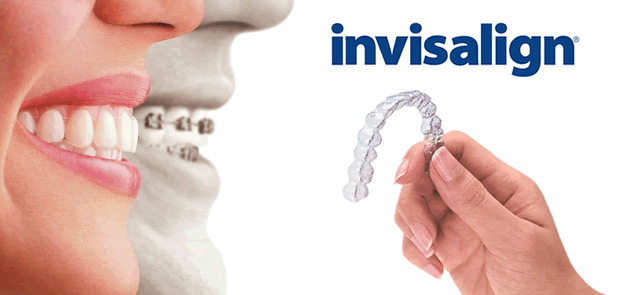 Porcelain Veneers
Porcelain Veneers are often a good option for people who have teeth that exhibit any of the following features: Front teeth that have been traumatized and appear darker than the surrounding teeth, teeth that have tetracycline staining, fractured or chipped, root canaled, teeth with large gaps where orthodontics is not an option, or teeth that for any other reason are un-esthetic and need improvement. The process for creating Porcelain Veneers requires the removal of 1-1.5mm of enamel from the front of the tooth. A very thin "wafer" of Porcelain is then manufactured and cemented permanently to the front of the tooth to replace the enamel removed. This "wafer," known as the Veneer is designed to match or improve on the existing contours of the front teeth and is often lighter in shade and is a very attractive and cosmetic solution for un-esthetic front teeth.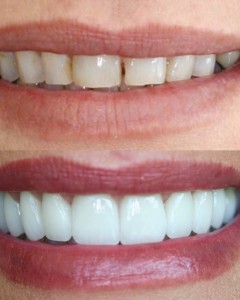 Dental Bonding
Dental Bonding is a great way to repair small fractures in the enamel of the front teeth. It can also be used to close small gaps, hide imperfections and stains, or protect the roots of teeth that are exposed from gum recession. The benefit of Dental Bonding is that it is very conservative. It does not require us to remove very much tooth structure at all. Yet, because Dental Bonding relies only on the strength of the adhesive used to cement it to the tooth, it may not withstand the same amount of wear and tear as other options such as Veneers or Crowns. Nevertheless, it is a great option when indicated, and can usually be completed in only one visit.

Tooth Whitening
Tooth whitening is a very popular and economical way of improving your smile. Coffee, tea, wine, certain foods, or smoking can drastically darken the enamel of the teeth as time goes by. A great solution is to whiten your teeth safely and effectively using a Custom Bleaching Kit. A custom made bleaching tray is made that is designed to fit your teeth perfectly. Our professional strength bleaching gel is included and needs to be applied inside the tray and worn at home every day for several weeks. We can often achieve shades several grades higher with consistent at home use. This system is much more effective than the strips available over the counter and is highly recommended as a first approach for tooth whitening.